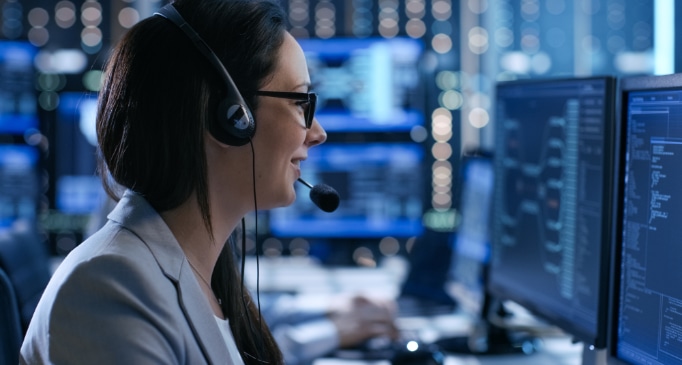 How To Decide Between Monitored Vs. Unmonitored Security Systems In Des Moines
You understand you have to safeguard your home. Above all else, it's the spot where your loved ones live and is where you have all of your valuables. But what is the best kind of home secuirty? Figuring out if you should use 24/7 monitoring is one of the chief decisions you need to make. Explore the advantages and drawbacks of monitored vs. unmonitored security systems in Des Moines and see what's right for you.
Differences Between Monitored Vs. Unmonitored Home Security Systems
When you choose round-the-clock monitoring, your home security system bridges to a professional monitoring service that is set to provide help at all times. When an entrypoint sensor trips or a smoke detector goes off, your monitoring agents are issued a warning instantly. They quickly go to work to confirm the alarm and contact the proper emergency professionals.
On the other hand, an unmonitored security system doesn't come with professional support. You might consider this to be self-monitoring, which means that if your alarm goes off, you have to respond to remedy the situation. This possibility is the more affordable solution, but it also impacts your peace of mind.
Pros And Cons Of A Monitored Security System In Des Moines
Here's a brief overview of the pros and cons of a monitored security system.
Pros Of Monitored Systems
Improved security: Having a backup in place is always wise. If you are on vacation, asleep, or don't have your cell phone, your home and its inhabitants will still be safeguarded.
Speedier response times: Monitoring professionals are always standing by to help. They'll reply quicker to incidents than you can on your own.
Insurance discounts: Monitored home security could entitle you to a homeowners insurance reduction.
Superior equipment and smooth integration: When you get tools, installation, and monitoring from a reputable home security expert, you will gain access to a fully connected system with sensors and alarms that may be superior to what you will discover on your own.
Downsides Of A Monitored System
Fee: You will pay a monthly charge for monitoring.
Usually required to use professional installation: Many residents prefer to have the job taken care of by qualified professionals, but some do-it-yourselfers might want to do it by themselves.
Have to sign a contract: You will typically need to sign a contract as part of your package. This stipulation will be satisfactory for most as home security is a benefit you will want indefinitely.
Pros And Cons Of An Unmonitored Security System In Des Moines
Here's a short rundown of the advantages and drawbacks of an unmonitored security system.
Pros Of An Unmonitored System
Affordability: You won't need to pay a monitoring fee.
Install on your own: DIYers could consider this an advantage as they can install the system themselves and not have an installation fee. Other residents might wish to use a skilled technician.
More Flexibility: You may incorporate equipment when you wish - and from different manufacturers. However, you might find assembling into a cohesive system more challenging.
You're always in charge: You won't have a third party monitoring your home's defense. If an urgent situation arises, you're in control of getting support.
Cons Of An Unmonitored System
No support: What if you've misplaced your smartphone and don't see a security warning? This situation will generate added stress and lower your peace of mind.
Demands your total attention: Since you are the single person in charge, you must pay close attention to your home security app.
Installation is on your own: If you want help during the installation, you might have to hire a separate service professional. The installation is also likely to be more time-consuming.
Stay Protected With a Monitored Home Security System In Des Moines
Get the 24-hour support you deserve with a monitored home security system in Des Moines from Secure24 Alarm Systems. We think you'll agree that a comprehensive, monitored home defense system is the right option for you. Contact (515) 212-6493 today to customize your package.